BROWSE VINYL PLANK AVAILABLE IN NORTHERN CALIFORNIA
Key Decisions When Choosing Vinyl Plank
Vinyl Plank is a great product for the multi-family manager. The enormous number of selections from the different manufacturers can be overwhelming. Here is a quick guide to help you evaluate which vinyl plank is right for you. We're here to help make the best flooring choices, contact us to learn more.

Wear Layer Thickness
The thickness of the wear layer will have more to do with determining the durability than any other factor. Wear layer thickness ranges from 6 mil to 30 mil. We recommend between 8 mil and 12 mil for apartments.
Cost
When evaluating the cost of vinyl plank, the all-in cost for an installation should be considered rather than the price per s.f. Sheet vinyl has an average waste factor of 15% to 30%. Vinyl plank on the other hand has about a 5% waste factor. As a result, vinyl plank is much closer in price to the sheet vinyl than it would appear.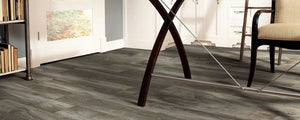 Carpet Available in Northern California